Scientists in Columbia have found the remains of what is thought to be the largest snake ever to have lived on earth. The huge snake measured about 43 feet long and 4 feet thick.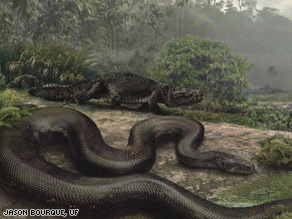 The discovery tells us a lot about Earth's climate during the creature's life on earth. Snakes and other cold-blooded animals need warmer climates to power their metabolism. It is estimated that the average temperature needed for this snake to survive would be about 91 degrees F, about 10 degrees warmer than today.
The existence of this snake tells us that the earth was not only much warmer anciently than it is today, but that plant and animal life thrived under those conditions.
People who claim that Global Warming is anthropogenic are political con-men looking for power and money.  And Al Gore is the worst of the bunch.
JunkScience.com nails Obama for hypocrisy this morning:
Obama's Oval Office Hypocrisy
By Steven Milloy, JunkScience.com
January 29, 2009

The New York Times reported this morning that,

The capital flew into a bit of a tizzy when, on his first full day in the White House, President Obama was photographed in the Oval Office without his suit jacket. There was, however, a logical explanation: Mr. Obama, who hates the cold, had cranked up the thermostat.

"He's from Hawaii, O.K.?" said Mr. Obama's senior adviser, David Axelrod, who occupies the small but strategically located office next door to his boss. "He likes it warm. You could grow orchids in there."

Could this be the same Barack Obama who said last May that,

"We can't drive our SUVs and eat as much as we want and keep our homes on 72 degrees at all times… and then just expect that other countries are going to say "OK"… That's not leadership. That's not going to happen."

And could this be the same Barack Obama who is looking to sign a stimulus bill that would spend billions of dollars installing millions "smart meters" that would enable your power company to prevent you from being as comfortable as Bambi on hot and cold days?

While Bambi is warm-and-toasty in the Oval Office, is he considering the plight of Michigan's Marvin Schur, a 93-year World War II veteran, who was recently found frozen to death courtesy of a malfunctioning electricity "limiter" device installed by his power company?

Change has come to Washington. Elitism is dead. Long live elitism.
With leadership like this, who needs enemies?
I'm an asthma sufferer. I've had it since birth. It flares up when I get around specific allergens, like dander from horses, cats, and certain breeds of dogs. It also flares up in the cold, or when I run. My case isn't life-threatening, but it isn't fun either.
For example, I cannot go visit my in-laws, my sister, or some of my friends unless I am willing to deal with asthma for a week afterward; they all have dogs or cats. I can't run any appreciable distance. If I go camping, I have to take an inhaler, just in case.
The inhalant I have found to be very effective is the tried-and-true albuterol inhaler. It typically cost me about $25.00 and would sometimes last more than a year. But beginning Jan. 1, 2009, that inhaler will no longer be legal to sell in the US. You see, the CFCs used as a propellant are allegedly destroying the ozone layer.
Never mind the fact that the hole we have supposedly created in the ozone layer comes and goes on its own from year to year, and appears to repair itself. Never mind that the hole in the ozone layer only appears above the only unpopulated continent on the face of the planet. Never mind that the amount of CFCs used to propel albuterol is environmentally insignificant now that CFCs have been banned in everything else. The pretend hole in the ozone layer is more important than the health and well-being of the people on this planet.
The new inhaler is not even half the size of the old one. Why? Because they don't want the public to spend more money than they did before. That might arouse suspicion. So now you are paying about twice as much as you were before for medication that, for some people, is necessary to preserve life.
Who is hurt the most by this change in price? The poor people. Asthma does not distinguish between rich or poor. And in fact, if you are in a lower income tax bracket, you will likely receive less treatment for asthma than someone in a higher bracket. Poor people tend to not have insurance, and so have to pay on their own. They will be even less able to pay for the inhalant now than they used to be.
Did you ever wonder why the Left in America is so adamant that we must provide free health care to everyone? There are a couple of reasons. First is to assuage their guilt. They know perfectly well that their policies affect people financially, and they know that people of lesser income are most deeply affected by those policies. Therefore, they devise programs to make up for the harm they would otherwise be causing people, which is the second reason: to provide cover for their bad policies. Once their guilt has been satisfied, they can proceed to subject everyone else to the tyranny that results from their oppressive and draconian regulations. There is no good liberal policy. All policies emanating from the Left are designed to hurt people in at least one way. The frightening part is that the Left never seems to be able to see the consequences of their policies before they are put into action.
So, with this new inhaler will come new efforts to bring health care under the umbrella of government "services." There are already reports of people being sensitive to the new medication, and thus unable to take it. The inhaler must be meticulously cleaned after each use to prevent a build-up of medication in the nozzle, which would then prevent the medication from being dispensed. That was not a problem with the old inhaler. Furthermore, the drug companies were forced into investing their money in these new products against their will by the government. So much for free enterprise.
Unless I miss my guess, the old inhaler will still be available outside the US. If I want what works, I will just have to go to Mexico to get it. Unfortunately, most of the people who need this medication the most won't be able to afford the trip to get it. I predict a rise in asthma-related deaths in the next two years. Who will be to blame? The American Left, specifically the enviro-fascist wing.
What I am left wondering is, when all the CFCs have been banned, and the hole in the ozone continues to behave as it now does, can we then finally put them all on trial for crimes against humanity?
When Martin Luther nailed his 95 Theses to the door of the Castle Church in Wittenburg, he was challenging the authority of the prevailing religion of the day, the Catholic Church. In a way, his struggle mirrors our own today.
Instead of an infallible Pope, we have Al Gore unilaterally pronouncing the debate over. Instead of corrupt priests, we have climate scientists parroting the "Pope" in exchange for favors. I could go on.
Recognizing I am about 80 short, I hereby post my own 15 statements of rebellion against the new Universal Church of the Earth. I call this "My Disputation on the Power and Efficacy of Climate Legislation, including the Kyoto Protocol."
I deny that Global Warming has any significant connection to human industrial activities.
I deny that we are destroying the planet.
I deny the claims that we are causing glaciers to melt, polar bears to drown, arctic ice to retreat, sea levels to rise, acne to increase, or any of the numberless things that have recently been attributed to Climate Change.
I deny the assertion that humans are parasites, a cancer, a plague, or any other fear-laden word abused by green activists.
I deny environmentalists any right to impose legislation that will adversely affect my way of life, or that will harm my family's way of life.
I deny the false assertion that eco-activists have any concern for human welfare.
I deny the assumption that we must change our way of life to more closely match those of third-world countries in order to protect the environment.
I deny Barak Obama's claim that leadership in the world means we should acquiesce to the demands of other countries regarding how much we can eat, what we can drive, or how we should live.
I deny that our American way of life is a threat to other nations.
I deny that the Kyoto Protocol will do anything about cooling the planet.
I deny the assertion that CO2 is a pollutant, and that it is harmful to the planet.
I deny that we can stop Global Warming, or Climate Change, or whatever other term the environmentalists wish to abuse this month.
I deny that the Left can come up with anything positive for human progress.
I deny that Leftists have any right to call America home while they work tirelessly to pull it apart and destroy it.
In conclusion, I am willing to concede that I can be called a denier. I'm in good company. Given that the temperature decrease of this year alone has offset the past 100 years of warming, and that the IPCC has predicted a cooling trend for at least the next 15 years, how can anyone who now continues to claim that human activities are to blame for climate change expect to be taken seriously? Some people will continue this "struggle" to save the planet in the face of mounting evidence that that our planet doesn't need saving. They want one of two things: a cause or power. It's not hard to see who wants which.
I am a denier, and as far as it is in my ability I will deny both of these things to those who have proven that they will only abuse them. I encourage you to do the same.
MSNBC is carrying a story here that blames China's coldest winter in 100 years on Climate Change. You'll notice how the threat is shifting from Global Warming (which is becoming increasingly discredited with the release of new data) to the more generic "Climate Change."
Of course the climate changes. It has always done so. The question now is, "What causes Climate Change." The proponents of government intervention will insist that the change is anthropogenic (man-made). The eco-fascists need a crisis around which they can rally support, mobilize their forces, and ram their regulations through the respective legislative bodies. The goal is ultimately a one-world governing body connected to the United Nations.
They have yet to explain how greenhouse gas emissions cause both warming and cooling under the new climate change theory. But judging from past experience, that isn't much of a challenge. There always seems to be someone willing to provide a new junk-scientific theory that ignores reality and ostensibly proves that Man is the cause of every evil in the world.
And support for the new theory won't be difficult, either; they can get some people to believe anything.